Description
Product Description
Spectrum analyzer from 9 kHz to 7.5 GHz with a 25.7 cm LCD touch-display (1024x600 pixel). Incl. Preamplifier and Tracking Generator.
The Siglent SSA3000X is a compact and light weight Spectrum Analyzer with premium performance for portable applications. The use of digital IF (intermediate frequency) technology guarantees reliability and performance to meet the most demanding RF applications.
The very large display (25.65 cm / 10.1") of the Siglent SSA3021X Spectrum Analyzer provides a resolution of 1024x600 pixels. The SSA3000X Plus has a (25.65 cm / 10.1") Mutli Touch Display with a resolution of 1024x600 pixels.
Both Models allowing a very good overview of all its comfortable functions like measurements, marker and peak table, auto tune and coupling. These functions enable the analyzer to acquire signals and match parameters automatically, compared to the manual process necessary with a traditional analyzer.
The Siglent Spectrum Analyzers have a sophisticated and easy to use user interface offering multiple functions for all tasks. The menu navigation is very intuitive and all functions and parameters are easy to locate thanks to the graphical interface.
| Models | Obsolete | Obsolete | SSA3015X Plus | SSA3021X Plus | SSA3032X Plus | SSA3075X Plus |
| --- | --- | --- | --- | --- | --- | --- |
| Max. Bandwidth | 2.1 GHz | 3.2 GHz | 1.5 GHz | 2.1 GHz | 3.2 GHz | 7.5 GHz |
| Preamplifier | | | | | | |
| Tracking Generator | | | | | | |
| EMI Filter | Option | Option | Option | Option | Option | Option |
| AMK CHP/ACPR/TOI/OBW/Monitor | Option | Option | Option | Option | Option | Option |
| AMA AM/FM | n/a | n/a | Option | Option | Option | Option |
| DMA ASK/FSK/PSK/QAM | n/a | n/a | Option | Option | Option | Option |
| Touch Screen | n/a | n/a | | | | |
| Resolution bandwidth (RBW) | 1 Hz ~ 1 MHz, in 1-3-10 sequence | 1 Hz ~ 1 MHz, in 1-3-10 sequence | 1 Hz ~ 1 MHz, in 1-3-10 sequence | 1 Hz ~ 1 MHz, in 1-3-10 sequence | 1 Hz ~ 1 MHz, in 1-3-10 sequence | 1 Hz ~ 1 MHz, in 1-3-10 sequence |
| Display average noise level (DANL), min. | -161 dBm/Hz, Normalize to 1 Hz (typ.) | -161 dBm/Hz, Normalize to 1 Hz (typ.) | -156 dBm/Hz | -161 dBm/Hz | -161 dBm/Hz | -165 dBm/Hz |
You will find the specifications of the SSA3000X Plus series: Click Here
Support four traces and cursors independently
1 Hz Minimum Resolution Bandwidth (RBW)


AM Signal Demodulation at the zero span
Phase noise -98 dBc/Hz@1 GHz, offset 10 kHz
-151 dBm Displayed Average Noise Level (RBW=1 Hz)
Advanced power measurement (Option)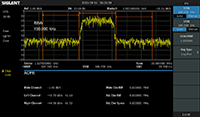 Design Features
Characteristic curve of the Return Loss (Option)
EMI filter, Quasi-Peak detector following CISPR 16 (Option)