Description
Rigol DS6102 1GHz 2 Channel 5GSa/s Digital Oscilloscope
Quick Overview
1GHz bandwidth, 2 Channel, 5GSa/s Digital Oscilloscope.
Product Description
The Rigol DS6102 is a very high quality two channel digital storage oscilloscope. It offers up to 5 GSa/s real-time sample rate and up to 1 GHz bandwidth.
These high performances ensure not only to capture real-time instantaneous signal, but also to observe details of repeated signal. DS6102 have up to 180.000 wfms/s refresh rate, which enable users to capture instantaneous signal and abnormal signal more quickly, to enhance waveform capturing ability, and to expedite circuit debug course. The quality of the Rigol Oscilloscopes is comparable to Agilent and Tektronix oscilloscopes.
Other advantages: 10.1" color LCD, bright and vivid waveform display; versatile trigger modes: i.e. slope, alternative, rise&fall edge, enable users to stabilize signal more easily. In economical oscilloscope field, DS6102 have no doubt the highest performances, the most functions thus should be engineers' best choice.
• Up to 1GHz BW with 5GSa/s sample rate
• Standard 140Mpts deep Memory
• Up to 120,000 Waveforms per second Acquisition rate
• Up to 180,000 frams for waveform record and replay
• Deeper menory, higher wavefirm acquisition rate
• Up to 256 levels intensity grading
• Real time waveform record and replay
• Customized real time hardware filter (LPF, HPF,BPF,BRF)
• A variety of Trigger functiona and Automatic measurements with statistics
• Serial bus trigger and decode such as I2C, SPI, RS232, CAN...
• Advanced Math functions
• 10.1 inch WVGA ( 800 x 480 ) LED backlight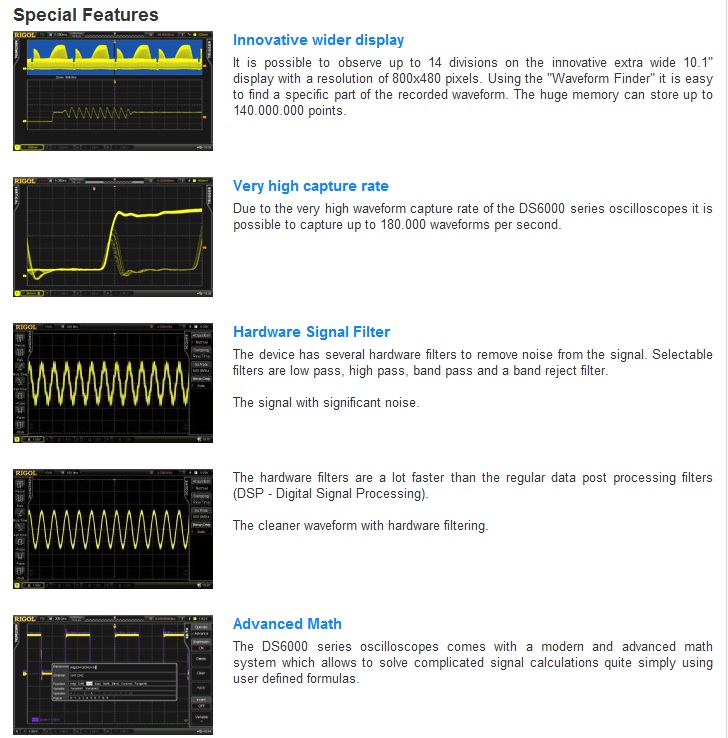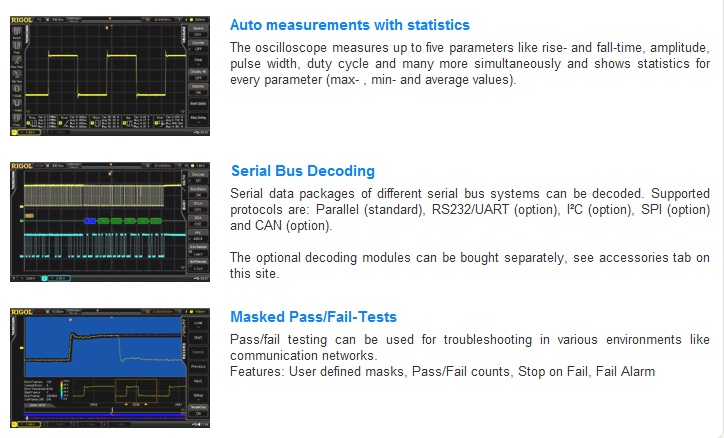 Specifications:
General Data

Digital Oscilloscope Rigol DS6102

Display

10,1" WVGA-Color-LCD

Resolution

800 × 480 Pixel

Interface

• 2x USB-host for i.e. USB sticks

• USB-Device for a PC connection or USB Pict-Bridge printerinterface

• LAN for network connectivity (LXI compilant)

• GPIB (IEE-488, General Purpose Interface Bus) using the optional USB-GPIB Module

• Trigger- and Calibrationoutput

• 10 MHz reference clock In-/Out

• VGA interface to connect to an external monitor or projector

Size

39.5 cm × 25.5 cm × 12.5 cm
15.55" × 10.04" × 4.92"

Weight

4.67 kg
10.3 lbs

Supported operation systems

Windows XP (32Bit + 64Bit)
Windows Vista (32Bit + 64Bit)
Windows 7 (32Bit + 64Bit)
| | |
| --- | --- |
| Oscilloscope Functions | Digital Oscilloscope Rigol DS6102 |
| Channels | 2 |
| Real-time sample rate | 5 GSa/s realtime |
| Bandwidth | 1 GHz |
| Sampling Modus | Normal, average, peak detect |
| Mathematics | userdefined, FFT (Fast Fourier Transform) |
| FFT algorithm | Rectangle, Hanning, Hamming, Blackman |
| Signal Bus Decoding | Parallel, RS232/UART, I²C, SPI |
| | |
| --- | --- |
| Signal | Digital Oscilloscope Rigol DS6102 |
| Input | DC/AC coupling, up to 300 Vrms CAT I |
| Real-time sample rate | up to 5 GSa/s realtime |
| Time base | 500 ps/div to 50 s/div |
| Memory | 140 Mpts (1 Channel) |
| Filter | Hardware LPF, HPF, BPF and BRF |
| | |
| --- | --- |
| Vertical | Digital Oscilloscope Rigol DS6102 |
| Analog digital converter (A/D) | With the resolution of 8 bits, make sampling on both channels synchronously. |
| Sensitivity range (V/div) | 2 mV/div to 5 V/div |
| Offset range | 2 mV/div to 5 V/div ± 40 V |
| | |
| --- | --- |
| Trigger | Digital Oscilloscope Rigol DS6102 |
| Trigger | Channel, Ext, EXT/5 |
| Signal system and line/field frequency (Video triggering mode) | PAL, NTSC, SECAM |
| Triggerfunctions | Edge, Pulse, Slope, Video, Pattern, RS232/UART, I²C, SPI, CAN, USB |
| | |
| --- | --- |
| Measurement | Digital Oscilloscope Rigol DS6102 |
| Cursor measurement | Manual, Track and Auto Measure modes |
| Auto measurement | Vpp, Vamp, Vmax, Vmin, Vtop, Vbase, Vavg, Vrms, Preshoot, Overshoot, Frequency, Period, Rise Time, Fall time, Positive Width, Negative Width, Positive Duty Cycle, Negative Duty Cycle, Delay1-2 (rise), Delay1-2(fall) |
Standard Accessories
RP5600 10:1 Divider passive probe
600MHz Bandwidth 
10:1 passive probe 
Shipped with probe positioner and its accessories 
Identified by DS6000 automatically
Similar products