Description
MobIR M8 Unique Mobile-like IR Thermographic Camera
Product Description
The MobIR M8 represents a landmark of Infrared technology progress globally. It is the latest innovation from Guide Infrared who always work with innovative ideas. Guide Infrared presents the M8, extending the features exclusively for the  high-end Infrared camera which has never been done before. With a impressive 50Hz refresh rate, 2Mpixels CMOS, Touch screen, Auto focus, IR video recording, whatever you expect from a thermal camera, the M8 satisfies your needs by its compactness, ruggedness, accuracy, efficiency, reliability and affordability.
MobIR M8 Thermal Camera
MobIR is a mobile like infrared camera.
ONE  Unprecedented design of mobile like infrared camera.
 Two  Exquisite outlines of double covered and open-faced
 Three  Perfect technology -combinations of optics, mechanics and  electronics.
Features and Benefits
Rugged Design
Magnalium housing is far more robust and shock resistant compared with other plastic ones; Intelligent built-in  lens design delivers overall protection for the optics even if you drop it on the ground by accident. The unique AGT offers double protection for the sensitive optics and detectors when it is off or in sleep mode. The optional silicon jacket offers extra protection.
Elegant Vision 
With the practical and innovative design the MobIR M8 improves the traditional ideas on infrared cameras. It is a mobile like instrument, small enough to fit in the palm of your hand and is integrated with the most advanced infrared technology.

AGT- Auto Gate Technology
The innovative auto gate not only functions as a shutter but also as a lens cap. Free from all disrupting heat radiation caused by the optics and electronics inside, the intelligent external shutter delivers the most crisp and uniform image presentation as well as the most stable and accurate temperature reading. At the same time, it switches off automatically in sleep mode, providing extra protection to the sensitive optics and detectors.  
Unique Design allows for easy Holding and Operation 
The classic mobile design makes this portable infrared camera very easy to operate. This palm sized camera, angle-adjustable LCD display enables you to reach every nook and cranny which means thermal abnormalities have got nowhere to hide.
Live Video Recording 
You can record live video on the device or into  a PC via USB 2.0 which helps monitor temperature changes of the selected area, which is perfect for stationary monitoring. 
Auto Capture
The image can be automatically captured through the following options:  Every  15secs, 30secs, 60secs, and 5 min interval settings if necessary. With this function the camera can be mounted on a tripod for real time monitoring purposes.

Auto Focus for Both IR and Visual Image
The automatic focus function is adopted in this light weight IR camera which is 160 x 120 pixels. Both clear infrared and visual images can be focused by simply pressing one button.
5 Modes of Operation
The button! The Touch screen! The W/T wheel! The USB 2.0 or The infrared remote control!
These 5 modes make the IR camera very fast and easy to operate.

2.0 Megapixel CMOS
This portable IR camera with CMOS technology delivers high-resolution images and also allows you to make fusion images which allows for better spotting of potential problems.
IR Fusion Technology
This latest Thermal Fusion technology allows you to overlay the thermal image directly on the corresponding visual image. It helps you identify exactly where the problem is.
Touch Screen
The unique touch screen allows for more advanced and complicated analysis that the buttons do not allow. The touch pen allows you to highlight/outline any irregularity  that the thermal target covers, assisting you to get the most uniform and accurate measurement.

Guide Analyzer
The guide free software has a friendly user interface and is compatible with Microsoft operating systems. the software allows you to store and analyze infrared images and videos. The software has many advanced functions such as image processing, thermal fusion, automatic report generation in Microsoft excel or word etc and all kinds of analyses. The muti-language availability allows the user to select the language they are most comfortable with.

4 Hours long battery time
This extremely long battery time ensures the user is not interrupted  while working which means more work efficiency and they do not have to worry about the inconvenience caused by low battery power.

Applications
MobIR M8
MobIR is a mobile like infrared camera
• Predictive and Preventative Maintenance 
• Electricity Inspections
• Building Diagnostics
• Technical Diagnostics
• Veterinarian Helper
• Helps Fight Crime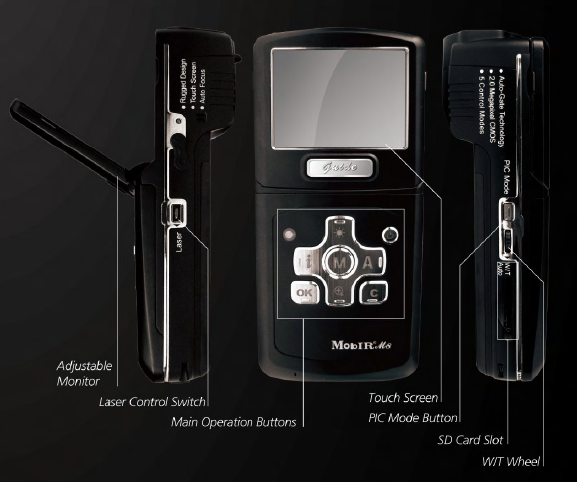 Specifications
M8

Imaging Performance

Thermal

Detector Type

Microbolometer UFPA (160x120 pixels, 25µm)

Spectral Range

8-14µm

Field of View (FOV)

20.6° X 15.5°

Focus

Automatic and Motorized (Thermal &Visual)

Thermal Sensitivity

≤80mk at 30°C

Image Frequency

50HZ PAL/ 60HZ NTSC, non-interlaced

Electric Zoom

X2

Palette

8

Visual

Built-in Digital Video

CMOS Sensor, 1600x1200 pixels, 224 True Colours

Image Presentation

External Display

2.47" TFT LCD with high resolution

Video Output

PAL/NTSC

IR Fusion

Visual and IR blending

Man-Machine Communication

Touch Screen

Angle Adjustable

Button

Yes

USB 2.0

Yes

W/T Wheel

Yes

Infrared Remote Controller

Yes

Measurement

Temperature Range

-20°C to 250°C (350°C Optional)

Accuracy

±2°C or ±2% of reading

Measurement Modes

Auto hot & cold spot, auto alarm live/zoomed  image & video; 4 movable spots, 4 movable and changeable areas displaying either max, min or average, line profile, histogram & isotherm band  in livee/frozen/saved image

Emissivity Correction

Variable from 0.01 to 1.00, on-screen emissivity correction available

Measurement Features

Automatic correction based on distance , relative humidity, atmospheric transmission  and external optics

Optics Transmission Correction

Auto, based on signals from sensors

Image Storage

Type

Removable 2GB Mini SD card & built-in memory

File Format

JPEG with analysis records

Voice Annotation

Up to 60 seconds

Text Annotation

Selected from preset texts or customized

Automatic Image Capture

Yes

Live Video Recording & Measurement & Storage

Recording

Powerful recording up to 30 minutes in Mini SD card

Measurement

Automatic Max & Min temperature

Storage

In Mini SD card, built-in flash memory or PC

Optional Accessories

Telephoto Lens

30mm FOV: 7.6° x  5.7°

Target Illuminator

Yes

Infrared Remote Controller

Yes

Sun Shield

Yes

Silicon Rubber Protecting Jacket

Yes

Tripod

Yes

Laser Locator

Classification Type

Class 2 semiconductor laser

Power System

Battery Type

Rechargeable  Li-ion Camcorder battery, field-replaceable

Charging System

In camera or in Battery charger

Battery Operating Time

4 hours continuous operation

External Power Operation

AC adapter 110/220VAC, 50/60Hz

Environment

Operating Temperature

-10°C to 60°C

Storage temperature

-20°C to 60°C

Humidity

Operating and Storing 10% to 95%, non-condensing

Encapsulation

IP54 IEC68-2-29

Shock

Operational: 25G, IEC68-2-29

Vibration

Operational: 2G; IEC68-2-6

Interface

USB 2.0

Real-time image, video data transfer to PC and real-time control of the camera on PC

RS232 Communication

Control of camera on PC

Physical Characteristics

Size

154mmx69mmx45mm

Weight

0.35Kg (including battery)

0.27Kg (Excluding battery)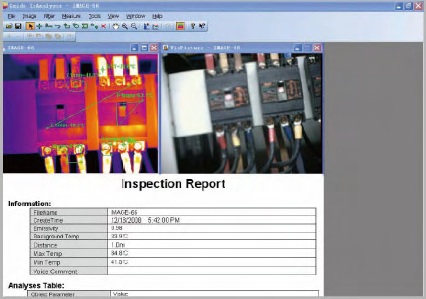 Free shipping to any address in South Africa